Anglim's Western Metal Works is Albuquerque's premier welding and fabrication shop. Offering private, commercial, and industrial metalworking service throughout New Mexico, our team of experienced fabricators can handle jobs of any size and scope.
We offer sheet metal fabrication services for multiple applications and industries, from prefab parts for manufacturing to metal art and sculpture. If you need welding and fabrication service, count on us for quality results!
Fabrication and Welding Services
Sheet metal is one of the most versatile building materials, appearing in everything from machinery to roofing material – and it requires a skilled hand to cut, shape, and weld into place. Our services include, but are not limited to: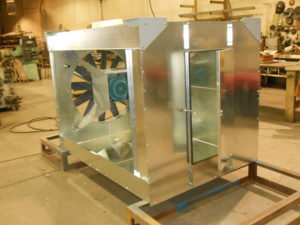 If it involves cutting and shaping sheet metal, we can handle it. And with our high-precision 5-axis waterjet cutting machine, we can ensure clean and exact metal shaping without the risk of heat damage and warping.
Quality Metalworking in Albuquerque, NM
We offer both in-house fabrication services and field welding with our mobile welding unit – allowing us to complete jobs of any size as well as on-site installation and repair. To learn more about our available services, or to request a quote for your project, contact us today!
Call 505.822.9170 for a quote on metalworking service today.