Anglim's Western Metal Works is proud to work with up-to-date precision technology for metal fabrication and machining jobs.
The Maxiem 1530 5-axis waterjet machining center from OMAX is the top of the line – and the one in our shop is one of just two in the state with its capabilities!
How Water-Jet Cutting Works
Waterjet cutting works by delivering a thin jet of high-powered water, using highly focused abrasion to cut through metal and other materials with laser-like precision. In our shop, we use it for everything from cutting intricate shapes for metal art to fabricating machine prototypes and specialty manufacturing.
The Maxiem 1530 offers fast and precise results. Its specs: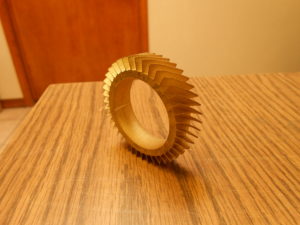 Work Envelope

| | |
| --- | --- |
| X-Y Cutting Envelope | 10′ 0″ x 5′ 2″ |
| Z-Axis Travel | 12.00″ |
| Table Size – (L x W) | 12′ 2″ x 5′ 8″ |

Standard Model Specifications

| | |
| --- | --- |
| Speed | 500 in/min |
| Linear Positional Accuracy | ±0.0030″ |
| Repeatability | ±0.0010″ |
What Can You Do With Waterjet Cutting?
When precision is important to you, there is no better tool for the job than a water-jet. This technology is perfect for:
Clean room tech and other equipment that must be made to exacting specifications.
Detailed metal art, including sculptures with intricate designs.
Custom-designed metal signs, gates, and flourishes.
Weldment prep
3D parts
Hardened materials
These are just some of the many industries that can benefit from the quality and precision of our waterjet cutting system. If you need help choosing the right metalworking techniques for a project, or are simply looking for a full-service welding and fabrication business you can count on to do the job right, contact us today for more information.
Call 505.822.9170 to learn more about our metal fabrication technology.