With commitment to quality, and efficiency, Anglim's Western Metal Works is here to provide structural fabrication and welding services throughout New Mexico. Our mobile welding unit allows us to perform on-site services for new construction, or repairs to structural components, and we will handle the cutting and fabrication and assembly of pre-fab parts for your project.
Welding and Fabrication Services
We are a full-service welding and fabrication shop with experience in a variety of industries and projects – from small-scale repairs to mid-size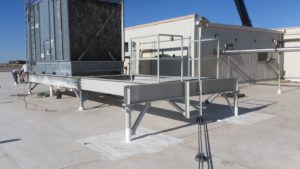 structural fabrication jobs. Some of the services we offer include:
Industrial fabrication
Steel structures and beams
Mezzanines and access platforms
Stairways, ladders and cages
Security
And more!
Our work can be seen throughout the state in a variety of industries, from healthcare to manufacturing, public utilities, government and agricultural projects.
The Right Tools and Experience
Our staff is experienced with a variety of techniques and materials. We don't shy away from big jobs; we have the space and equipment to accommodate your sheet metal and fabrication jobs. To learn more about our available services, or to request a quote for your industrial or commercial fabrication project, contact us today.
Call 505.822.9170 for a quote for your structural fabrication project.