Anglim's Western Metal Works is a trusted source for welding and fabrication services. We're well known for the diversity and quality of our work – whether we're doing a large-scale construction job or a decorative piece, we approach every job with the same commitment to detail.
This eye for artistry and careful workmanship sets us apart and makes us the shop of choice for metal artwork, sculpture, custom signage and more. If you have a creative design you want to see come to life in three dimensions, we can work with you to make that happen!
Design and Fabrication Services
Do you have a design in mind that you would like to be made from metal? Come see us!!
Whether you have a fully fleshed-out design or a schematic scribbled onto a napkin, we can work with you to develop the idea.
We can work with a variety of materials and techniques to create the look you want – from custom metal signs to scrap metal statues.
Order Custom Work Today
If you are interested in seeing our previous projects, you can browse our gallery. Or you're free to contact us with questions and to learn more about our available materials, techniques, and design services. We'll be happy to work with you to develop your ideas and provide a quote for the creation of custom metal artwork for your home or business.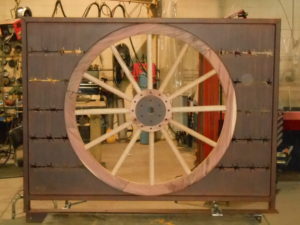 Call 505.822.9170 to learn more about our custom-made metal artwork.